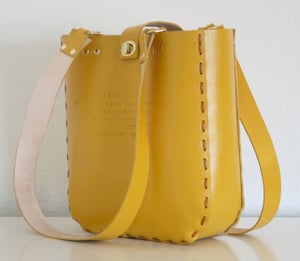 $

225.00
"...learn as if you were to live forever" -mahatma gandhi
i am the forever learner...and despite the simple shape and design...this bag provided lots of leather working learning experiences...
so meet the forever tote, modeled after the "artist satchel," yet with some minor changes.
its a simple yet stylish tote bag to toss over your shoulders and carry on about your day. it can be used to tote around sketch books, writing notebooks, knitting or crocheting supplies...or even just the neccisites of everyday life...especially life with kids.
the forever tote is stitched completely by hand...and all the componets are 100% leather. it is also hand-painted using eco friendly acrylic paints!
this version has two shoulder straps and a small tab closure with a turn lock.
all quejimenez bags are artisan crafted entirely by hand...every stitch, cut and construction detail is lovingly created by me. included on every bag is an affirmation/motivational quote or statement of empowerment from me. i believe we can inspire our lives with the thoughts that we think and see daily...why not make it a beautiful one?
dimensions:
height: 12.00 "
width : 11.75"
depth: 3.50"
inside strap drop: 20.00" adjustable
ordering details:
your bag is lovingly created for you when you order it. each bag is available in any of the colors i offer, and can be imprinted with the quote of your choice (mines or yours), however i do not imprint my bags with any negative or foul thoughts.
each bag is also individually numbered and signed by the artist...myself!
when making your order, please be sure to communicate with me your preferences, if you want something not mentioned let me know and i'll try to make it happen!
*please see my shop profile & policies for more information.
shipping:
i ship all bags priority mail with delivery confirmation and insurance.
paz!