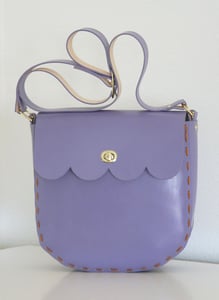 $

235.00
"life is sweet"
i love scallops...they remind me of hills...and most of all cupcakes...i don't know why...
this bag provides a safe keeping of all your daily sweets, treats, knick-knacks and essentials...whether they be sacred stones...heartfelt sketches or poems...or everyday essentials like keys, lipstick and checkbooks...here is a place to carry them beautifully alongside you...
this version of the cupcake bag is made out of premium american hide...its hand stitched and hand-painted using eco friendly acrylic paints and can be stamped with the quote of your choice.
it features one long strap that can be customized to wear across your body or as a shoulder bag...or adjustable with a buckle...as featured here...that way the choice is always up to you!
all quejimenez bags are artisan crafted entirely by hand...every stitch, cut and construction detail is lovingly created by me. included on every bag is an affirmation/motivational quote or statement of empowerment from me. i believe we can inspire our lives with the thoughts that we think and see daily...why not make it a beautiful one?
dimensions:
height: 10.00 "
width : 11.00"
depth: 3.00"
inside strap drop: 13.00" (customizable)
ordering details:
your bag is lovingly created for you when you order it. each bag is available in any of the colors i offer, and can be imprinted with the quote of your choice (mines or yours), however i do not imprint my bags with any negative or foul thoughts.
each bag is also individually numbered and sign by the artist...myself!
when making your order, please be sure to communicate with me your preferences, if you want something not mentioned let me know and i'll try to make it happen!
*please see my shop profile & policies for more information.
shipping:
i ship all bags priority mail with delivery confirmation and insurance.
paz!